Abloom Cotton (Pvt) Ltd
We are ideally placed to offer

you the best quality and best price with timely delivery in textile industry. Success in today's textiles industry is a combination of Excellent Quality, Unbeatable Service, Exceptional Value
So, please inform us about your current requirements with complete specifications to enable us to quote you our best competitive prices.
We offer our following services: We are ideally placed to offer you the best quality and best price with timely delivery from our significant pool of reliable fabric manufacturers encompassing a full range of technical and manufacturing capabilities from this region. We are proud of our knowledge base in the textile industry, which helps us in giving our clients the best quality on time. We have a rich database on the best manufacturers of a variety of house hold linen, hotel & hospital linen, bath & kitchen linen ,quilted & filled products , apparel products. Our quality of service in this field has provided us with a large customer-base in Europe and throughout the world.
Why Work with Sourcing Company
The increasing demand of textile products in the entire world, made difficult to choose the real supplier especially when you are thousands of kilometers away from vendor. Normally the customers have to face the problematic situation due to delayed shipments, poor quality of finished goods, documentation errors and many more. Often at a great distance can be quite time consuming, Expensive and often highly frustrating. A sourcing agency becomes your local office in the country of manufacturing and fights for your interest to obtain the best Prices, Negotiate the shortest lead time, Get the correct samples, Oversee production, Ensure quality and monitors your shipment till the end.
A sourcing agent is the eyes and ears of its customer.
A sourcing company is the Bridge between Textile Manufacturers and Importers.We know the bottom line is to satisfy our customers through premium quality products delivered on-time.
 Representing them and assisting them in their sourcing and buying activities.
As a foreign importer, it is not easy to judge whether the supplier is a trading company or a manufacturing-based vendor via its website.
As a professional sourcing company, he knows it well and we can visit the factory to make sure our clients have lower prices and direct services from the factory.
A full set of strict procedures for auditing factories.
Risk controlling ability the factory gets your payment but does not deliver or deliver unsatisfied products. As a local Sourcing company,& we offers local law assistance if any problem occurs.
By using the support of a reliable, experienced textile sourcing company, you ensure smooth running from procurement to delivery.
As a local Sourcing company Sourcing visits suppliers very often to minimize risks.
Your customers are likely to be working on a tight deadline. Many vendors take time to deliver a quotation. By attempting to work through this process independently, you risk the loss of a client who has not the time to wait.  Your competitor, supported by a sourcing company, will get a fast quote and snap up the trade.

Why import textile from Pakistan

Pakistan produces the best quality raw material.


Pakistan is the fourth largest cotton producing country of the world.
Pakistan has latest spinning machines units who are producing high quality open-end,slob and ring spun yarn.
Pakistan has latest knitting and weaving facilities capable of manufacturing almost any kind of fabric.
Pakistan also has state of the art designing,printing, dyeing and finishing facilities as such as special finishes.
Pakistan has embroidery, quilting, embroidery& quilting, sewing facilities capable of handling extensive needlework.
Pakistan have a large network of units who have all international standard certificates of quality and other responsibilities like ISO 9001/2000 , SA8000, ISO14000,BSI, Oeko.tex etc.
Pakistan has one of the most economical and reliable labor forces countries.
Exports textile and fashion goods annually to the US, UK and Europe of more than $13.78 billion
The European Union has granted the much-awaited duty free market access under the Generalized System of Preference (GSP)+ to Pakistan which will enable Islamabad to export textile goods to 27 European countries Award of GSP Plus status shows confidence of the international markets on the excellent quality of Pakistani products.
Pakistan likely to get a boost in textile exports to EU under GSP Plus. After GSP Plus status, Pakistani products will be available in the EU markets at competitive prices. It leads the surge in demand for the Pakistani products. It is estimated that Pakistani textile exports to the EU will increased.

Sourcing of Factories:

We have strong network of Professional, Certified & Reliable manufacturing units covering the fields of Knitted & Woven apparel (Blank / Decorated with Embroidery, Print, PFGD and Washings) for Men, Women & Children styles.
We have strong network of Home Textiles /Sportswear products /Quilted & filled items & Spinning mills.
We have strong network of weaving,knittingand processing mills for Grey, Dyed & Printed fabrics.
We assess the factories and mills in terms of product range, quality of the product made, production capacity, facilities, financial capability, technology orientation, man power, working conditions, managerial efficiency and their overall quality policy.
Once our initial assessment is over we exchange information with our principals and make a combined decision in approving an identified vendor.
We source factories who are properly equipped with latest manufacturing machines, have a clean working atmosphere, are financially stable, hold quota for our required products, have in house quality assurance system for checking fabrics and made-ups and are ready to cooperate regarding sampling and new developments.
After making an initial enquiry, Abloom Cotton (Pvt) Ltd will study your requirements and source a selection of suitable textile manufacturers.
Our Auditors evaluate all manufacturing Quality control systems for existing or new vendors.
Each of our report details evaluations of management, quality control procedures, non-conforming materials, corrective actions taken.
Abloom Cotton (Pvt) Ltd has facility of all lab tests.
We carefully examine the processes involved at each department, and provide you with accurate feedback.

Our Reports


• Primary Inspection Report Summary
• Grey Fabric Inspection Report
• Finished Fabric Inspection Report
• Export Cartoon Label Barcodes Control Report
• Inner Production Barcodes and Stickers Report
• Packing Fault Report
• Stitching Fault Report
• Production Measurements Control Chart
• Deviation Chart and Sample Size

TEXTILE CONSULTANT

Abloom Cotton (Pvt) Ltd experts who have worked with manufacturers for many years. Therefore we not only provide usual business services as other companies do, but provide valued-added services such as improving consultation for production and factories. • To ensure that your suppliers deliver high-quality merchandise and show continuous improvement, surveys & audits are necessary. Abloom Cotton (Pvt) Ltd has the skills and expertise to perform these on an existing or on a new vendor. • Abloom Cotton (Pvt) Ltd provides the following quality consulting services: • Supplier's Capability and Qualification. • Our qualified staff visit & conduct an on-site survey of a suggested new factory. Later detailed reports on the capabilities of suppliers are submitted. • Suppliers Manufacturing and Quality System Auditing. • Re furnished any collapse units. • Boost production with new scientific techniques • Our Auditors evaluate all manufacturing control systems for existing or new vendors. • Each of our report details evaluations of management, quality control procedures, non-conforming materials, corrective actions taken, in-house inspection system, lab test, test equipments. We carefully examine the processes involved at each department, and provide you with accurate and feedback. • With the philosophy of providing services to cover all interests of the partnership, we focus to achieve win-win situation, as to generate a good sales volume. • We Have QualifiedInspectors Who Have Worked in famous international inspection companies, and experts who have worked with manufacturers for many years. Therefore we not only provide usual business services as other companies do, but provide valued-added services such as improving consultation for production and factories. • Good Servicesandaclear and professional report is exactly what we provide to you, so you can make decision against it. Moreover, your business partners will benefits from our improving comments and suggestions. • Abloom Cotton (Pvt) Ltd cherishes its relationship with its customers worldwide. Abloom Cotton (Pvt) Ltd is a new company, but a team behind it has sourcing experience of over a decade. In its short history it has made worldwide contact by delivering goods on time, every time. • We at Abloom Cotton (Pvt) Ltd have in debt knowledge of the market condition and capabilities of the manufactures to enable help our customers select the best factory suitable for their product. Therefore with Abloom Cotton (Pvt) Ltd on your side you are a winner all the way. Market information based on R&D and periodical offers.
Transparency
Our customers benefit not only from our experience and professionalism but also from our principles of transparency,integrity, andaccountability.
The company has a team of experienced quality inspectors with years of experience who monitor the production from the selection of the raw materials to the final stage.
The company gives preference to the nominated suppliers by the client or else the company decides the best in the business.Checks the quality of products as per its own standards but in special cases it gets the quality checked by internationally recognized Textile Testing laboratories such as SGS, MTL,etc.
The company provides all the documents in advance for pre or post shipment and assists the nominated clearing agent or the buyers agent for prompt processing.
Abloom Cotton (Pvt) Ltd policy of reporting quickly and directly back to customer inquiries will keep you from being 'in the dark'. We believe in being honest and straightforward; even if it's bad news - we'll tell you first and tell you fast
Our policy of reporting quickly and directly back to customer inquiries will keep you from being in the dark. We believe in being honest; even if it's bad news - we'll tell you first and tell you fast.
OUR MAIN MARKETS
We are doing business in all over the worlds including;
USA
Canada
Europe
South America
Middle East
Australia
Placement / Order Confirmation;
Either Receive Confirmation by Fax or Written Purchase Order.
DELIVERIES/ LEAD TIME
Our normal lead time for garmentsare for 90 days and for fabrics and home textiles 60 days but in special case on buyers demands. we can perform extraordinary in 30-45 days also just to save our valued buyer from the burden of extra air freight cost.
A transaction fee based on the Products and volume is charged to our clients ranging from 2% to 4% on FOB value of the transaction.Sample fee will be USD $100 to $500 will be refunded when orderconfirmation.
Product Development and Monitoring
Product development is notoriously difficult to control from overseas. For a textile importing company, delays and failures in this area can result in make or break lost business opportunities and market share.
Abloom Cotton (Pvt) Ltd has the textile business technical knowledge to follow and manage this process for you, with strict attention to detail in every phase.Continual quality improvement and production monitoring begins as soon as your order is placed with a vendor.
 The technical team at Abloom Cotton (Pvt) Ltd visits the vendor daily, makes detailed inline inspections reports, and update the sampling and production data.
This often neglected process is vital; it avoids major delay and potential cancellation if the product is rejected at the final pre-shipment inspection.
By placing emphasis on this daily monitoring; if average daily production output is insufficient to meet deadlines Abloom Cotton (Pvt) Ltd immediately engages with the factory to increase production by any means possible.
We offer quality controls in textile for our buyers worldwide.
Our Textile and Apparel specific inspectors are trained to identifythe brief steps.
Color shift (differing shades in the same dye lot)
Incorrect color / material
Stains and color bleeding
Mold / mildew / odor
Measurement defects
Pinholes, tearing
Uneven stitching
Missed stitching
Quality Management System
We work with reputed and approved manufacturers from renowned customers likeK-MART, PRIMMARK, AUCHAN, OTTO VERSAND, NECKERMAN, LA-REDOUTE, PRIME STORES, JD WILLIAMS, LITTLEWOOD, QUELLE, LEEN BAKKER, WAL-MART, JC PENNY, DOLLAR STORE, TARGET, and many others big importers, catalogue companies, mail order companies mainly in Europe as well in USA, Canada, Australia , New Zealand, UAE.
We perform fabric inspections utilizing the internationally accepted 4 Point Fabric Inspection System. However, we can also inspect fabric using different methodologies such as the Demerit Fabric System or tailor made systems designed to suit our clients specific quality requirements.
We are able to utilize different fabric sampling methods and operate Rejection Methods and Rates as defined by our clients and dependent on the end use and fabric type.
Apart from buyers manuals, we have our own very strict quality assurance system That makes sure the buyers demands more significantly and it is exactly done as per our clients required International Quality Standards; AQL 4.0, AQL 2.5 Etc.
Generally we perform Product inspections utilizing the internationally accepted AQL 2.5 (ISO standards) Inspection System.
Sourcing Product inspection team covers a full range of Product segments woven, knit, luxury, denim, heavy light weight fabrics etc…
Pre-production inspections:
We have an extensive Product inspection database compiled through random sampling of Home Textile & Apparel Garments This saves allot more time and money at both ends.
There are quality checks at every stage of manufacturing starting from Cutting, Stitching and Packing. Before cutting all sort of stitching material is checked whether it conforms to the customers standards prescribed of quality.
After keen checking of each lot of un-defected cut parts move to the stitching units.
During the sewing process the inspecting staff scrutinizes each and every process. The inspectors make sure that only good parts move to the next phase with individual tags no.
 After trimming and pressing of the garments, it is being assured that each piece of garment is up to standard.
The Quality assurance personnel monitor the performance of every individual inspector by picking up the examined garments and checking the quality of every piece.
OUR DEDICATED STAFF MEMBERS

Director:
Marketing Executive:
Marketing Executive:
Export Manager:

Documentation Manager:
Manager PPC:



WHY WORK WITH Abloom Cotton (Pvt) Ltd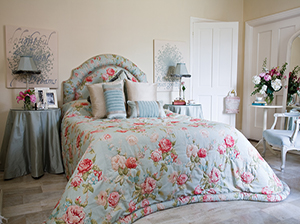 • The "Chief Executive" of the Company Mr. JawadChaudhry has vast Textile Experience of past 23 years on his back in dealing all categories of textile.He spends almost 20+ years in leading textile companies in Pakistan.
We are one step sourcing, production & inspection solution for worldwide customers to procure their requirements from the exclusive range of Bed linen, Knitted & Woven Garments.
Our basic aim to provide all the solutions to his customer like Sourcing/Buying/Quality in all areas of textile sector with best of his experience knowledge.
One Window operation for customers.
Our administrative office is based in Faisalabad which the famous textile city of Pakistan with staff in Karachi, Sialkot and Lahore.The current staff strength of 25 persons in various capacities from merchandising,quality control and logistic are the real asset of our company.
You can truly depend on us to get rid off all the undesirable happenings like delayed shipments, poor quality of finished goods, documentation errors and many more.
In addition to our narrow spectrum supplies, we have successfully entered to make the advance booking for over the year. In a textile business, it's difficult task to maintain the long term supplies with even periods but we have relations with financially strong vendors who can manage.
We have fully computerized system of purchase and follow up of materials; order and Production follow up, Production audits analyzed to ensure accuracy.
We have a team which follows up a customer's order right from development till its shipment.
We continuously are in search for new and ingenious ideas for our customers.
All type of Fabrics, Home Textiles, Cotton & Blended Yarn, Kitchen Linen ,Bath linen, Hotel& hospital linen,Apparel Garments ,Knitted Garments,Sportswear,Socks,Knitted Fabric,Leather Garments,Gloves , Curtains,Cord tie backs & ribbon , Cotton / tutt Bags ,Quilted & filled items,Baby diapers & Products,Pet Bedding etc.
Our continuous effort and expertise in this field makes us the best source for the latest and the best in the sourcing industry.
We have a rich database on the best manufacturers of a variety of apparel products.
Our supplier base includes a wide variety of design driven manufacturers. This allows us to provide you with cutting edge fashion trends and quality materials at competitive prices.
Our customized approach and geographical presence also helps you to rapidly resolve any design, quality and lead time concerns.
Cost effective ProductionTraditional strengths,raw material, labor, technology.
Cheaper Inputs Good logistics Infrastructure Supportive NetworkWorking directly with suppliers is the main key of success of Abloom Cotton (Pvt) Ltd.
The Abloom Cotton (Pvt) Ltd service also includes all stages in supply chain management.
Our services include product development & design, sourcing, production planning, follow up merchandising, factory audits, quality assurance, auditing for social compliance and shipping coordinationaccording to customer demand.
We registered in all concern departments like Sales Tax, Income Tax, and Registrar of Companies of Government of Pakistan & also Faisalabad Chambers of Commerce & industries. All valid certificates are available on request.
Strong in costing textile items, detailed calculations by Abloom Cotton (Pvt) Ltd ensure the vendor has submitted the best possible price, and the quote is then submitted to you, quick, efficient and reliable.
We know very well that every buyers have their strong desire to import good quality products at best competitive prices within time certain delivery of goods. So, we have sufficient arrangements forinspection to fulfill the above requirements with nominal charges which will be receivable from supplier's side.
We have complete hold on local market of all textile products and have strong contracts with big manufacturers of all kinds of Textile Items, so, we can negotiate in with manufacturers on your behalf in a better way.
At the end we assure you that we can fulfill each and every aspect of your requirements. So, after getting our quality services, you feel that you are in Pakistan not abroad.
This experience and expertise gives our clients access to a comprehensive range of products from a trustworthy network of suppliers who follow "International Quality System" and they are well equipped with professionals to deliver the desired results.
Access to International testing laboratories to meet International quality standards.
Effective communication to ensure our customer's satisfaction.
Best Vendor selection form our supplier's database in order to meet buyer's requirement of diversified products at the best price as well lead-time.
Arranging settlement of eventual disputes / quality claims.
Bridge between Textile Manufacturers and Importers.
At the Abloom Cotton (Pvt) Ltd we know the bottom line is to satisfy our customers throughpremium quality products delivered on-time.
The Management Team at Abloom Cotton (Pvt) Ltd consists of senior people with many years of expertise in the textile business.
As part of our distinct Service Policy, the management team is personally involved in monitoring product development through each stage of your order, from order placement to final shipment and your satisfaction.
Our team is fully experienced in the efficient cost control of products and the implementation of quality requirements for our European, American and other international buyers Efficient cost control of products and the implementation of quality requirements for our international buyers, we prove to be a package hard to be overlooked.
Sampling :
Samples are developed to suit the season's colors, fabric and style based of our buyer's requirements.
Any numbers of sales man samples are made as per the buyer's requirements and courier them directly to the buyers.
By offering these crucial services, Abloom Cotton (Pvt) Ltdassists our buyers marketing efforts in their own country by giving them an edge over others.
Designing :
Abloom Cotton (Pvt) Ltd has relations with expert textile design services companies in Pakistan. Handling textile design consultancy services and design services for printing, embroidery & product designing etc.
Costing, Sourcing and Market Situation:
Abloom Cotton (Pvt) Ltd provides resourcing service on the base of customer requirements. If you are looking for expert casting services or manufacturing services, then you have come to the right place.
Our Vision:
Our company's prime goal is to serve our customers professionally, with the integration of marketing and merchandising expertise along with technical support to build such a comfort level with customers, which would make them feel that they are in the right place to get the most competitive merchandize with outstanding quality to their entire utmost satisfaction.
We are committed to build long term relationships with our customers and provide our services as their local office from Pakistan.
We protect our client interests and generate business via our all-round services.
We offer the activities of Sourcing, Product development, Order placement, Production follow up, Quality control and Logistics monitoring till the goods reach the client warehouse.
In case you are kindly interested to avail of our services, please feel free to let us know your order requirements, payment-terms, etc., for a smooth & economic sourcing of your desired items at highly competitive prices from all over Pakistan.
To meet the needs of our clients by providing themtop class Quality Control and Sourcing Services on a consistent basis.
Abloom Cotton (Pvt) Ltd aims to listen to the needs of its clients. Hence before any inspection, we correspondwith our clients understanding their concerns and explaining our Inspection process.
We strongly urge our clients to communicate us their concerns about the products, so these are well addressed during inspection. This is what makes us different from other Inspection Companies.
Hence our clients tend to work with us on long term basis.
SOCIAL & ENVIRONMENTAL RESPONSIBILITIES:
SA8000 is globally applicable to all industries and provides a clear framework that Ensures ethical responsibility.
During a Social Accountability Audit of the factory, Abloom Cotton (Pvt) Ltd targets work environment issuesin regards to conformance & non-conformance either with the client's policy or SA8000 defined criteria.
Mainly following issues are addressed:
Health and Safety
Discrimination
Disciplinary Practices
Working Hours
Compensation
Management Practices
Forced Labor
Freedom of Association Child Labor Monitoring:
Our surprise audit team visits the factories / manufacturing facilities to ensure that Child Labor is not employed.
Abloom Cotton (Pvt) Ltdoffers Child Labor Monitoring especially in Sialkot, where small manufacturing facilities are located outside of the city.
An interview is done with various employees at the factory to ensure that factory is not involved in child labor.
Any discrepancy is photographed and reported to the clients. Child Labor LawsAfter complete evaluation, Abloom Cotton (Pvt) Ltd provides a comprehensive report with digital at site pictures documenting each accountability requirement, with attention paid to areas in need of improvement.
The Council on Economic Priorities Accreditation Agency (CEPAA), with the assistance of international business community and various labor organizations, developed the first standardized system for social accountability of suppliers and vendors.
The new standard SA8000, was modeled after the ISO9000 standard & ISO14000 environmental standard.
Corporations are now realizing that commitment to social justice, with consideration of ethical values and moral standards in corporate policies, is consistent with improved corporate prosperity and commercial success.
SA8000 evaluation is an important tool in developing a Corporate Code of Conduct.
Several high-profile media cases have brought unfair labor practices to the public's attention. Ensuring ethical practices through the adherence of a globally accepted standard, such as SA8000, prevents these negative attacks from occurring Abloom Cotton (Pvt) Ltd recognizes and honors a duty to protect the workforce in the manufacture of Abloom Cotton (Pvt) Ltd items.
Each appointed vendor must conform to the following terms as a minimum requirement.
Children must not be employed below the minimum legal age as required by Law.
Employees are to be paid no less than the legal minimum wage as required by Law.
Working hours must not exceed those set out by local legislation.
Maternity leave must be made available to all female employees.
Good working conditions must prevail.
Primary medical care must be provided on site.
OUR PRODUCTS
Abloom Cotton (Pvt) Ltd is working as a Multi-Functional Company dealing in following items.
YARN
Textile Yarn from fine to coarse 6/s to 40/s Carded, Combed, Ring spun /Open end, All kinds of cotton & poly cotton yarn in coarse and finer counts.
FABRIC
Gray,Yarn Dyed ,Printed, Dyed and White /Bleached ,Sateen up to 1000 Threads,sheeting ,Percale up to 250 Threads,100% Cotton Flannel,Twills ,Drills,Duck,Slub,Panama, Half Panama, Jacquard Weave etc.Fabric Form Special finishes like Anti bacteria, Anti Fungus, Fire retardant & TEFLON All kinds of fabric in different qualities.Canvas Solid batch dyed, continues dyed in all pigment, reactive and vat dyes.
Printed on rotary pigment and reactive. Panel Printing, All type of coated fabrics.
HOUSE HOLD LINEN
Flat sheets ,Fitted sheets ,Pillowcases ,Valance Sheets ,Bed Ruffles, Quilt Cover Set, Sheets Set , Thermal Blanket , Waffle Blanket , Sheet Sets in Jersey ,Comforters , Bed in a Bag. Fitted SheetsJersey , Fitted SheetsTerry , Quilt Cover,Jersey Pillow Shams,Oxford Pillow ,Bed spread,Quilts ,Pleated Curtains,Tab Top Curtains,Rod Pocket Curtains,Kitchen Curtains,Shower Curtains,Pouf Valance. Bedspread, Mattress protector,Cushion, and so on.
QUILTTED & FILLED ITEMS
Comforters, Bed in a Bag,Bed spread, Quilts,Mattress protector,Filled Cushions,Filled Pillows,Filled Euro sham, Sleeping Bag,Kitchen Products,Pet Products,Pet Quilted Sheets etc.
BABY DIAPPERS & PRODUCTS
13 pcs Baby Bedding Sets ,5 pcs Baby Bedding Sets,Cot/cot bedbumpers, Cot/Cotbed fitted sheets,Laundry bags,Quilts,Wall hangings / pictures,Bedding Sets,Pillows & Pillow Cases, Sheets, 100% Cotton Diaper,Valances,Toy Bags,Wall Accessories & Art,Crib Bumpers, Mattress Pads,Baby Blankets,etc.
CURTAINS
Pleated Curtains, Tab Top Curtains, Rod Pocket Curtains, Kitchen Curtains, Shower Curtains, LoopCurtains, Head and Channel Curtains and so on.
CORD & RIBBON
Braids & Trims, Cords & String, Fabric Bows, Fabric Ribbons, Paper Ribbons, Poly Bows,Poly Ribbons, Tassels , satin Ribbons, Organza Ribbons, Taffeta Ribbon, Natural Fiber & Decorative Ribbons, Cords & Ropes, Curling Ribbons, Pull Bows, Counter Rolls, Flower Sleeves Pattern etc.
COTTON/ TOTE BAGS
Customized logo printed 100% cotton canvas tote bag , Other materials as per customized request, like Non-woven /Cotton /Canvas/PP/Paper/Burlap/ etc. Customized Size, Logo Printing, Silk-screen / Heat-transfer/ Ultrasonic/ Full color printing/ Usage, Gifted/ Promotional/ Shopping/ Collectible/ Commemorative/ Business gift/ Personalized Bag etc.
Wiping Rags
New White Cotton Rags,New Colored Cotton Rags,New Grey Cotton Rags, New Mixed Terry Rags,Huck Towels,MicrofiberCloth Rags, Recycled Wiping Rags, Microfiber Cloth, Terry Towels, Dust Cloths, New & Recycled Color Fleece, New & RecycledWhite Fleece , New & Recycled Color Flannel, New & Recycled White Cotton Sheet etc.
PET BEDDING
SUMMER-WINTER BED, PATCHWORK QUILTS, POLAR FLEECE BLANKETS, REVERSIBLE FRINGE BLANKET, THE SQUARE BED, THE OVAL BED, THE PET CAR SEAT, THE SQUARE FLAT BED, THE RECTANGLE FLAT BED, THE DOGGY BAG, THE BOX BED, THE PUPPY STARTER PACK, THE PYRAMID BED,THE IGLOO BED, THE DOME BED, KNITTED MOUSE TOY , CROCHETED PUPPY,THE TRANSPORT BAG, DOUBLE SIDED THROWS, REVERSIBLE BACK SEAT PROTECTOR, THE REVERSIBLE BUTTERCUP BED, THE DOGGIE BACK PACK etc.
BLANKET
Thermal Blanket, Waffle Blanket, Fleece Blanket, etc.
Kitchen LINEN
Table Cover,Apron, Oven Gloves,Pot Holders,Place Mats,Napkins,Tea CozyTea Towels, CRT (Cabinet Roll Towels), Oven Mat, Kitchen Towels, Napkin, Bread Basket, Dish wash cloth, etc.
Bath LINEN
Bath Towels, Shawl Collar /Hooded Bathrobes,Embroidery Towels,Institutional Towels,Open EndTerry SLEEPERS, Velour, Ring Spun Carded,Combed, Egyptian cotton, Zero Twist, Bamboo both in 50:50%, and 100% Organic Cotton, Jacquard, Yarn Dyed Towel, Beach Towels, Kitchen Towels in solid and yarn dyed.Shop Towels, TerrybarTowels, New Huck/Surgical Towels, HandTowels, ShopTowels, Wash Cloths, Red Shop Towels, Blue Shop Towels ,White Shop Towels,Terry Fabrics ,Terry Ihram etc.
HOTAL & HOSPITAL LINEN
Our healthcare products are in white, vat dyed and printed washable @ 90 degree centigrade. Material of fabric of cotton or poly-cotton from 120gsm to 180gsm, all designed to withstand commercial laundering.100% Cotton and Polyester/Cotton Patient Gowns, ScrubSuit, Trousers, Labcoat, Nursinguniform, DoctorCoats, Operation Thatcher uniform etc.
KNITTED FABRIC AND GARMENTS
Single Jersey, Single Jersey with Lycra ,Single Pique ,Double Pique, Polo Pique ,French Terry , Terry with Lycra ,Fleece ,Fleece with Lycra ,Double Jersey ,Rib Fabric,1×1 Rib ,2×1 Rib ,2×2 Rib , Lycra Rib ,Flat Back Rib , Interlock Fabric , Drop Needle Interlock, Interlock with Lycra ,Collar and Cuff, Plain Collar or Solid Collar, ShavingCollar , Jacquard Collar ,Tipping Collar, Race Collar, Stripe Collar etc.
APPAREL & KNITTED GARMENTS
Colored Denim Jeans for the durable fashion Industry, Children wear uniforms Men, Women & Children Wears, Ladies Skirts, Jeans, Trousers,Hoddles, Jackets, Baby Garments, Lingerie, Men's readymade ShirtsKnitted and woven garments Work wear and Uniform, Basic T-shirt, Polo Shirt, Sweat Shirt, Fleece Jacket, Tank Top, Pajama Suit,Track Suit,Basic Five Pocket Jeans,Valued Added Jeans, Dress Trouser, Basic Short, Cargo Pants, Shirts.
Gloves
Industrial Gloves, BoxingGloves, Casual Gloves, BoxingEquipment's, BattingGloves, CyclingGloves, Cross Country Gloves, Driving Gloves, DressGloves, Fencing Gloves, Goalkeeper Gloves, Golf Gloves, Mountain bike Gloves, Motorbike Gloves, Paint Ball Gloves, RidingGloves, Ski / Skate Gloves, ShootingGloves, Mechanics Gloves, and so on.
SPORTS WEAR
Basic T-shirts, Polo T-shirts, Fleece Jacket, Tank Top, Pajamas Suit, Track Suit,Basic Short, Cargo Pants, Shirts, Sweet Shirts ,Tracksuits ,SetsShirts ,Shorts ,Jackets, Bermuda & Shorts ,Horse Riding Wear,Hunting Wear,Sweet Hooded Jacket, Polar Fleece Jacket,Leggings,Head Wear,Swim Wearetc.
SOCKS
Crew Socks, Anklet Socks, Footie Socks, Half Socks, KneeHighs, Leg Warmers,midcalves, Overthe Knee, Thigh Highs, Tights, Toe Socks, Dressing Socks etc.
Sports Goods
Hand Balls, Soccer sets , Custom made cricket clothing kit, Sublimation printing uniform for Clubs, English Willow Cricket Bat, Cricket Tennis Balls, Hard Ball Cricket Bats, Cricket batting Pads, Cricket Kit Bags, Soccer sets-uniforms-kits, Footballs-soccer balls, Volleyball, Basket Ball , Hockey, Badminton, Baseball, Rugby etc.
Leather Garments
Fashion Belts, Caps, Chaps, Jackets, Shorts, Trousers, Vest Coat,Sports Belts, Caps, Chaps, Boxing Gloves, Bike Jackets, Trousers, Football, Welding Apron , Welding Gloves, Welding Jackets, Work Wear Coverall, Work Wear Shoes etc.
Surgical Products
Diagnostic & Anesthesia, Scalpel Handles & Knives, Scissor, Dressing & Tissue Forceps, Artery Forceps ,Retractors, General Instruments, Needle Holders, Suture Needles, Cardiovascular Surgery, Neurosurgery, Ophthalmology, Oral Instruments, Tracheotomy, Intestinal Stomach, Rectum, Liver, Gall, Kidney ,Urology, Sterilization, Nail Instruments, Hollowware and so on.
TEXTILE CHEMICALS SOURCING
Basic Chemicals ,Bleaching Agent ,Salt or Electrolytes ,Detergent & Scouring Agent ,Anti foaming/Penetrating Agent ,Anti creasing Agent ,Peroxide Stabilizer ,Sequestering Agent ,Peroxide Killer ,Reactive Fixing Agent ,Mercerizing Wetting Agent ,After Soaping Agent ,Enzyme Finishing Agent ,Optical Brightener for Cotton ,Optical Brightener for Polyester ,Leveling Agent for polyester,Dyes, Dye-protective agents, Fixing agents, Leveling agents, pH regulators, Carriers,UV absorbers etc.
TEXTILE MACHINERY
Dying, Finishing, Garment, (Washing, Dyeing, Drying And Finishing) , Inspection, Rolling, Packing , Doubling Machines ,Laboratory Equipment's , Open-Width Dying, Pander / Foulard Dyeing, Squeezing & Impregnating , Preparing Machinery , Printing Machines (Rotary/Flat Bed),Raising / Shearing / Mercerizing , Sewing Machines , Squeezing (Hydro extractor And Vacuum), Steam Boiler / Thermal Oil Boiler , Steaming & Washings Machines, Scanter & Drying Machines , Water Treatment , Weaving , Spinning ,Finishing , Compressor ,Power Generator AND SO ON.
STAFF TRAINIG
Staff is constantly trained in new tools for quality and better business practices.
The Six Sigma and Lean production consultants are on the board of the company who provide new technical skills to team leaders in managing increasingly complex manufacturing processes.
HR DEPARTMENT
Our dominion extends to the HR sector of Pakistan's textile industry. Our exclusive management training program offers practical training to young textile graduates.
After the completion they are assessed and are placed in different textile industries on Abloom Cotton (Pvt) Ltd reference Abloom Cotton (Pvt) Ltdis proud of having the best textile talent in Pakistan.
All our team members have immense and in-depth knowledge of textile along with experience.
Regular Updates:
Status report based on the multi-state inspections is transmitted to the buyers by fax or email.
Production progress is analyzed in relation to the delivery terms and suitable course of action s taken to ensure goods are delivered in time.
Reports to customers with accurate, actual and real time situation in Pakistan.
During bulk production and sampling, regular supervision of the process by our skilled staff is ensured at every step to avoid any discrepancy between the actual product and the approved sample.
The consignment is allowed for shipment if only it is upto the buyers required standard.
Quality Control Tests:
All the procured yarn form weaving is 100% tested at as per the International yarn testing standards.
All the weaved /Gray fabric is subjected to 100% inspection in accordance with our house established quality inspection standards which are part of our in house established quality inspection standards as well as part of quality management System (ISO 9001/2000).
Pre-shipment Final Quality Inspection Report:
Believes that quality inspection is inspecting a product through buyer's eyes. Comparing it to the technical sheets, approval samples and most importantly from a sellable point of view.
Hence also seeing the product through end user's eye. An understanding of the end market, where product is likely to sell, is necessary as well.
Delivery delays, quality issues and losses which can occur without on the spot checks prior to shipment, are frequent. The result is a lowering of reputation of the textile importing company.
Working directly with factories in Pakistan may expose an importer to unforeseen risks as there is no one in Pakistan to look after their interests.
Abloom Cotton (Pvt) Ltd specializes in Home textile , Fabrics & Apparel Garments .
Most reliable and well-equipped testing sources to conduct the required quality tests on the product. If required also conduct outsource tests by international testing agencies like SGS, TTL etc…
During-production Random Quality inspections, we have an extensive fabric inspection database compiled through random sampling.
Inspection Status according to AQL 4.0 •
Advise shipping department / customer of Expected departure schedule.
At time when 100% merchandise is packed.
Full packing list is required.
Inspection Status according to AQL 4.0 •
Final Inspection:
Container Stuffing and Loading Supervision:
An identification of the goods during the loading is made to ensure that only the inspected goods are being stuffed without getting mixed up with the un-inspected goods.
So ensure this we loads the container in front of our representative to avoid any discrepancy and make our satisfaction and co-ordinate. Advise shipping department / customer of Inspection release.
Move cargo to forwarding agent, sea port or air port. Shipment Release.
Receive export documents from supplier for verification. Abloom Cotton (Pvt) Ltd Issue inspection certificate to supplier Send duplicate copy of original export Documents to customer.
Advise customer of commission status Receive Commission for Abloom Cotton (Pvt) Ltd.
Receive commission from customer Finally - Order is closed successfully.
Our Way of Work Supply vendor with:
Order Confirmation
Receive P.O
Read and Check P.O
Conformation of Order on behalf of Vender
Receive The master Letter Of Credit
Pre-Production Stage
Development process
Color Standard
Master Sample (if any)
Counter sample evaluation
Size set / PPS Evaluation
Photo / Salesman Samples evaluation
Bulk Inspection (Before Production)
First pc. Concept implementation
Trims & Accessories Check
Monitor & control ( If Not OK check all items at the office, If OK send to customer.)
Once approves go for bulk
Check for workmanship, styling and Production output of suppliers.
Need Photo / Pre-production samples
Check for correct packing, assortment and Presentation
At time when approx. 20% merchandise is packed.
Acquire sample for testing • Check all the requirements as per customer need.
Once all is clear give Go head for production.
Once testing is clear approve to start production.
Advise Pre-Production Status to Customer.
In-Line inspection (Minimum 3 in-line insp.
Advise production status to customer via CRITICAL PATH.
Inspection Status according to AQL 4.0. What makes us different?
Abloom Cotton (Pvt) Ltd understands delivering consistent quality demand. We are able to fulfill this demandwith the help of our experienced and knowledgeable project managers & quality controllers.
Each of our staff is with at least five years' experience in relevant field.
Proactive Results
• Knowledgeable Staff
Cost-effective Services
Confidentiality
Personal project involvement
Timely, informative feedback
Guaranteed quality solutions
Gain from a great dedicated team with a willing approach and high standard of service.
"It is so hard to find someone who I can trust." That's what many of our customers tell themselves before they begin working with Abloom Cotton (Pvt) Ltd.
Abloom Cotton (Pvt) Ltd is prestigious company with the mission of acquiring the customer's satisfaction through ourmotto is to deliver the best of the best to every client and every time.
Abloom Cotton (Pvt) Ltd Executive is in operations since 22 years in this field and hasa team of having the textile experience of years.
We at Abloom Cotton (Pvt) Ltd have in debt knowledge of the market condition and capabilities of the manufactures to enable help our customers select the best factory suitable for their product.
Therefore with Abloom Cotton (Pvt) Ltd on your side you are a winner all the way. Try us and you wouldn't regret it.
Our Future In the years to come Abloom Cotton (Pvt) Ltds scope of services and strength in purchasing will continue to grow. As a buying agency we are in the process of obtaining ISO 9001 Certification.
We'll establish a Sourcing Center in the Middle East, China and Bangladesh, and we'll be opening marketing offices in the United States and Europe.
Contact Us Today! If you have an enquiry about a project or if you would just like to know more about our services, why not drop us a line? On Email:
Contact Name: Mr. Jawad (Altaf) Chaudhry
Office Email:Jawad@abloomcotton.com
jawadchaudhry72@gmail.com
Phone No:+92 333 6504854
Directors Email :
MOB:
Skype: